The Foot & Ankle Center of Illinois now offers Extremity Imaging services. The Esaote O-sacn MRI is the world's most advanced extremity MRIs. This technology is a vast departure from the whole-body scanners that can be frightening and uncomfortable. The MRI permits the patient to lie in a comfortable position outside of the machine with only part of the body in the tube. It is able to scan the lower extremity from the knee down to the foot and arms from below the elbow to the hand.
The experience is totally different from conventional MRIs. The patient is positioned on a reclining table and while the extremity is positioned into the MRI opening. The other extremity is rested on support padding next to the MRI opening. The room ambience is more like a spa than a hospital with pleasant with indirect dimmer lighting in the ceiling and a flat screen TV to view favorite programs or listen to music. A technologist is always within a few feet during the course of a scan. Unlike conventional MRIs, the sound transmission from the MRI is minimal and allows for close contact between the patient and the technician.
The Foot and Ankle Center of Illinois also offer a CurveBeam 3D CT scanner that provides bilateral images within a matter of minutes for advanced diagnosis and pre-operative planning. Digital imaging units are also provided in selected locations for immediate diagnosis.
Patients will no longer have to schedule an MRI or CT imaging elsewhere, removing an added trip and delay of diagnosis and treatment.
Quality images are transmitted directly to the radiologist or physician for immediate analysis and consultation that can occur within 24 to 48 hours. We can accommodate 98 percent of the adult population, including children, athletes and patients who may be claustrophobic and anxious of using traditional MRI units.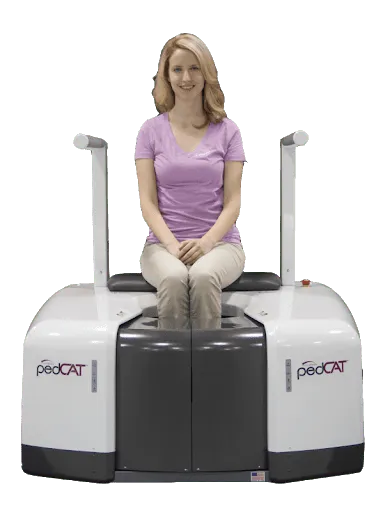 For more information on the convenience of immediate, claustrophobia–free, in-office MRI exams and CT scans please call 217-787-2700 for an appointment. Free travel vouchers will be provided to clients receiving care from our outreach clinics.
Schedule a consultation today at the Foot & Ankle Center of Illinois online or by calling the office nearest you in Springfield, Decatur, Carlinville and Shelbyville, Illinois.
If you're interested in scheduling a consultation,
Call Foot and Ankle Center of Illinois at (217) 787-2700 today!
We serve the following locations: Springfield, Decatur, Carlinville and Shelbyville, IL